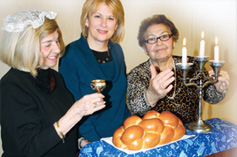 Welcome!
Jewish Older Adult Services of Atlantic County (JOAS), serving seniors since 1977, reaches out to older adults, helping them maintain independence, life with dignity and active community involvement.
JOAS "Adds Life to Years" to more than 2,100 seniors in Atlantic County. JOAS services are available to everyone 60 years of age and older without regard to race, religion or national origin.  A principle provider of supportive Social Services for older adults, JOAS services the needs of active older persons, the frail elderly and the physically handicapped and integrates the the isolated and uninvolved into the services network. 
Contact us today and find out how we can better serve you. JOAS is a constituent agency of the Jewish Federation   of Atlantic and Cape May Counties and United Way of Atlantic County.